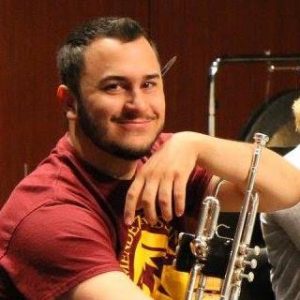 "This will be Mr. Austell's 4th year as the Associate Band Director at Rio Rancho High School and the Director of Bands at Rio Rancho Middle School. Before recently becoming a certified teacher with Rio Rancho Public Schools, Mr. Austell had been mastering his skills as a musician and educator by performing with a variety of ensembles, and receiving instruction from the music education faculty, at the University of New Mexico.
In May of 2016, Mr. Austell graduated from the University of New Mexico with a Bachelors Degree in Music Education.
Mr. Austell, was born in Stroudsburg, PA, but moved to Los Alamos, New Mexico at a very young age where he received his secondary education, before attending the University of New Mexico.
As a trumpet player, Mr. Austell performed in the top groups at UNM such as the Wind Symphony, Symphony Orchestra, Jazz I and Jazz II, and various chamber groups. Outside of his time spent at UNM, Mr. Austell has played with New Mexico Philharmonic and plays as an amateur musician for various church services, chamber groups, and jazz groups in the Albuquerque and Santa Fe areas. In March of 2016, Mr. Austell even had the opportunity to perform in the semi-finals at the National Trumpet Competition in Columbus, GA.
Like Mr. C, Mr. Austell is a huge fan of Star Wars and when he isn't at school being a band director, he can be found playing video games at home in his spare time. Music however, has always run in his family and as a result he has developed a strong passion for music and music education."