Matt Casarez – Director of Bands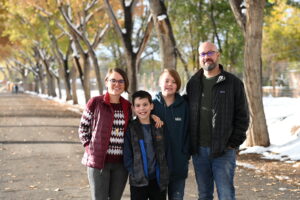 Mr. Casarez, better known as "Mr. C", is currently in his 17th year at Rio Rancho High School and in his 19th year of teaching. Mr. C was also the band director at Eagle Ridge MS and Rio Rancho Mid-High during his time as Associate Director at RRHS. Before coming to RRHS, Mr. C taught at LBJ MS in Albuquerque as well as Cibola HS.
Mr. C received his Masters of Music degree in 2004 from The University of New Mexico. While at UNM he was principal trumpet in both the Wind Symphony and Symphony Orchestra.
Before moving to New Mexico, Mr. C was the Assistant Director at Pflugerville HS in Austin, TX.
Mr. C graduated from Texas State University in San Marcos, TX with a Bachelor's Degree in Music Education in 2000.
As a trumpet player, Mr. C has performed with the Austin Lyric Opera, Austin Symphony Brass Quintet, and the Phantom Regiment Drum and Bugle Corps from Rockford, Illinois. Mr. Casarez has performed across the United States as well as in Sweden and Ireland.
Mr. C lives in Rio Rancho with his wife Vanessa and two boys Gus and Otis.
He is an avid collector of Star Wars t-shirts, vinyl records, and anything having to do with Gustav Mahler who he considers to be the greatest composer to ever live.